In case you missed watching the Catalyst program about Allergy on ABC TV last night, we recommend that you watch it on ABC iview
https://iview.abc.net.au/show/catalyst
This program highlights the high prevalence, wide range and seriousness of allergic conditions, including food allergy, anaphylaxis, allergic rhinitis, asthma, eczema and cold urticaria (hives).
Skin testing, food allergen challenge testing and the need to seek professional help from a specialist were featured in the program. Examples of current research were shown, and it was explained why more research is required.
Several ASCIA members were involved in the program, including Prof Connie Katelaris, Prof Dianne Campbell, Dr Preeti Joshi, Carolina Valerio, Rebecca Sertori and Prof Janet Davies.
Support Lupus research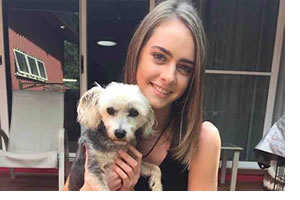 Thank you to Josephine Riek for raising awareness of Lupus and fundraising for AIFA, the Allergy and Immunology Foundation of Australasia. Josephine is 22 years of age and has Systemic Lupus Erythematosus (SLE), commonly referred to as Lupus.
On 10
th
May 2019, World Lupus Day, Josephine is shaving her head to draw attention to this autoimmune disease and needs your support to raise money for research to find a cure for this debilitating illness. She will be donating her hair to the Australia Alopecia Areata Foundation which makes wigs for kids with an autoimmune disease called Alopecia Areata.
For more details go to the
Gofundme page here
Reminder: AIFA 2019 research grants
Due to our generous supporters over the past few years, a total of $120,000 in AIFA grants will be awarded in 2019, comprising:


$40,000 - Food Allergy research grant
$30,000 - ASCIA 30
th
Anniversary research grant
$25,000 - Primary Immunodeficiencies clinical research grant supported by CSL Behring
$15,000 - Hereditary Angioedema clinical research grant supported by CSL Behring
$10,000 - Food Allergy research grant supported by DBV Technologies
Expressions of interest (EOI) for an AIFA grant for allergy/immunology research are due by the closing date of 15 April 2019. To find out how to submit an EOI go to
www.allergyimmunology.org.au/grants