Fundraising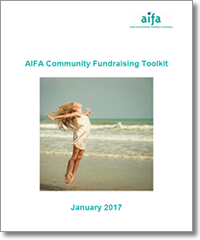 Interested in fundraising for allergy and other immune disease research?
Raising funds for AIFA through your choice of event has never been easier. You can join some of Australia's biggest established events or create your own fun event to help support our work.
If you want to organise your own event, download our Community Fundraising Kit, which has lots of fundraising ideas and tip and tricks to help you get started. Then fill out the Community Fundraising Proposal Form and email it back to us.
For more information please email This email address is being protected from spambots. You need JavaScript enabled to view it.

AIFA Community Fundraising Toolkit355.14 KB

Community Fundraising Proposal Form183 KB
Content updated August 2019