A new community funded food allergy research grant
2 October 2020
: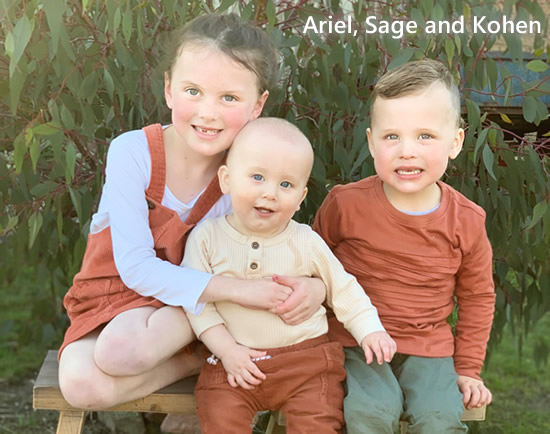 Ararat, a town in country Victoria, donates over $12,000 to fund The Kohen and Sage Richards Food Allergy Research Grant for 2021.
We give our warmest thanks to the community of Ararat for their generous donation of over $12,000 to the Allergy and Immunology Foundation of Australasia (AIFA). The community showed their support for research into food allergy through an online auction organised by Angie Waihape and Clare Vanina in August. Angie was motivated by her nephews Kohen and Sage who have experienced severe allergic reactions (anaphylaxis) to food.
AIFA is delighted to direct this generous donation toward food allergy research in 2021 as requested. This will be named The Kohen and Sage Richards Food Allergy Research Grant.
Angie writes: "Thanks to our amazing community, the 'Allergies & Anaphylaxis Awareness' Fundraiser was a huge success. With 34 generous businesses on board and a supporting community behind us we were able to smash our $10,000 goal. We sold over 3,200 raffle tickets, auctioned 10 awesome items, and received so many generous donations from people wanting to help make a difference to people who suffer with allergies. We are beyond grateful. We are very proud to donate this money to AIFA who are doing outstanding work towards finding preventions and ultimately a cure for allergies."
Angie and her team are an inspiration. We are sure that her nieces and nephews are very proud. Thank you Ararat for this good news story!
If you are inspired by Angie and Clare's effort, learn how you can become an AIFA community fundraiser here www.allergyimmunology.org.au/support-aifa/fundraising
We would love to hear from you. Reach out to us at This email address is being protected from spambots. You need JavaScript enabled to view it.
AIFA is now seeking donations and support for the 2021 grants and donations can be made online at www.allergyimmunology.org.au/donate
By donating to AIFA, you can be reassured that 100% of donations directly fund allergy/immunology research grants.
All donations of $100 or more are perpetually acknowledged on the AIFA website www.allergyimmunology.org.au/our-supporters/donors
Significant donors (of $10,000 or more) may request targeted research project funding in particular areas.