News
Keep up with all the latest AIFA news and activity by subscribing to our newsletter or following us on Facebook and Twitter.
AIFA announces 2017 research grants
4 December 2017
: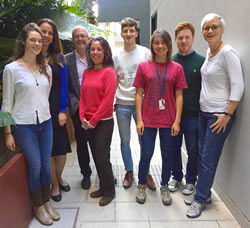 The AIFA Board is pleased to announce that a project entitled "A new approach to overcome a childhood autoinflammatory disease" led by Dr Marcia Munoz of the Garvan Institute of Medical Research has been chosen as the recipient of a $30,000 AIFA research grant. This brings the total AIFA grant figure to $130,000 in the last 4 years.
---
A NEW APPROACH TO OVERCOME A CHILDHOOD AUTOINFLAMMATORY DISEASE
Mevalonate kinase deficiency (MKD) is a lifelong autoinflammatory disease that usually appears in infancy. It is characterised by regular episodes of fever often accompanied by rashes, headaches, joint pain, swollen lymph nodes, vomiting and diarrhea.
More Articles ...