Towards a cure for autoinflammatory disease
AIFA Research Grant 2017
Dr Marcia Munoz, Garvan Institute of Medical Research. New South Wales
Awarded prestigious National Health and Medical Research Council (NHMRC) funding in 2018.
Mevalonate kinase deficiency (MKD) is a lifelong autoinflammatory disease that usually appears in infancy. It is characterised by regular episodes of fever often accompanied by rashes, headaches, joint pain, swollen lymph nodes, vomiting and diarrhea.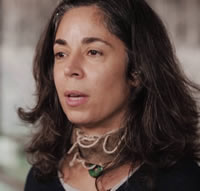 Marcia Munoz PhDDr Marcia Munoz has been awarded an AIFA grant of $30,000. Her team will undertake research that could lead to a new treatment for MKD that will revolutionise the lives of children and adults with the disease.
MKD is caused by mutations in an essential enzyme, mevalonate kinase. This disrupts a process called protein prenylation that is required for the function of all cells, including those in the gastrointestinal tract. According to Dr. Munoz, exactly how loss of protein prenylation leads to inflammation in MKD is still unknown; and treatments aim to dampen the inflammatory symptoms rather than target the cause of the disease. Current treatments require regular injections, which are expensive, ineffective in many patients, and do not reverse all of the symptoms.
The research team at the Garvan Institute have recently used gene editing to develop the first genetic mouse models of MKD. Analysis of tissues show that the mice with MKD have a leaky gut barrier in the wall of the intestine that could trigger inflammation in the gut as well as cause activation of the immune system, giving rise to the inflammatory symptoms. They have developed a method in the lab to use a simple lipid supplement to bypass the mutations and restore normal protein prenylation in mice with the MKD mutation. They will then determine whether it will return gut function to normal.
Dr Munoz says "this allows us to test for the first time an innovative new approach to restore the metabolic deficiency and prevent inflammation. These studies offer the exciting prospect of a dietary supplement or oral medication that could completely prevent the onset of inflammation in MKD. Treatments like this would be a major improvement over existing treatments and would constitute a major breakthrough in the lives of patients, particularly children, with a potentially fatal immune disease."
---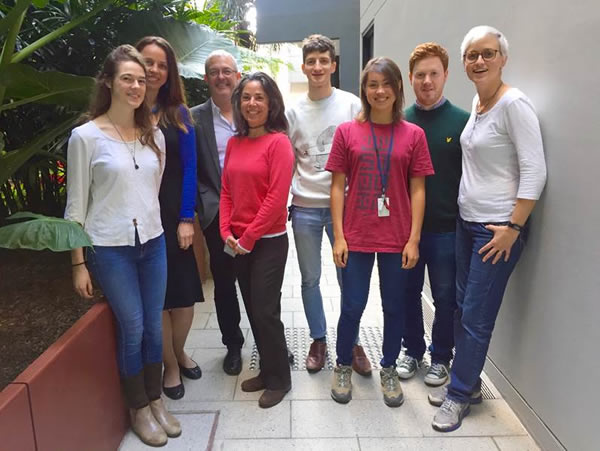 From left: Kristen Perry (student), Julie Jurczyluk (research assistant), Prof Mike Rogers (lab head), Marcia Munoz (PhD), Oliver Skinner (student), Alicia Rios-Wilks (student), Niall Byrne (PhD), Mayan Amiezer (student).
"Securing funding is so challenging these days that sometimes it's tempting to work on a more "common", more "socially relevant" disease. But when you meet the patients, their families and doctors, you know that they deserve better treatments for their disease, whether it's common or not.", Dr Munoz in an interesting interview released by the Garvan Institute. https://www.garvan.org.au/news-events/news/researcher-profile-dr-marcia-munoz
An article on how research provides missing pieces in the disease puzzle https://www.garvan.org.au/news-events/news/a-driver-of-inflammation-in-a-rare-childhood-condition
---