Why Support AIFA?
Funding for medical research into allergy and other immune diseases is critical. We need earlier diagnosis, strategies for prevention, better treatments and potential cures.
AIFA provides a vehicle for corporate or personal donors, as well as philanthropic organisations, to contribute to a trustworthy fund that will enable this important future research, identified by leading experts.
Our overheads are low, focused on web-based operations and marketing, which are supported by ASCIA. This means that 100% of your donation goes to research that will make a difference.
Donate
Donations of $2 or more are tax deductible, and donors of $100 or more are listed on the AIFA website, subject to permission being granted by the donor. Donations of any amount are appreciated and will help us to make a difference.
Support Resources
AIFA donation card

AIFA Donation Card708.86 KB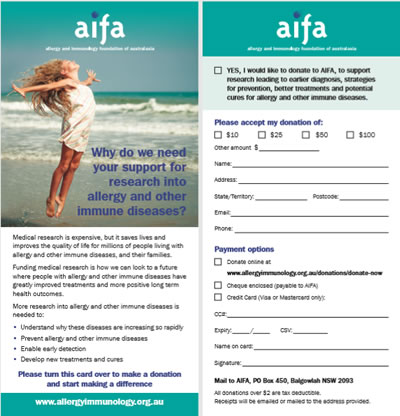 To order DL sized AIFA donation cards email This email address is being protected from spambots. You need JavaScript enabled to view it.
AIFA slides