Projects awarded AIFA grants
New ideas for new treatments, better diagnosis and better outcomes for people with allergy and immune disease. Ambitious? Yes.
These projects have been awarded AIFA grants after a rigorous selection process, reviewed by a panel of seven experts including Associate Professor Ronald Walls AM, Associate Professor Alyson Kakakios OM and Professor Matthew Cook.
To apply for a grant go to www.allergyimmunology.org.au/grants
Help us to continue this important work by donating here.
AIFA research grants 2016
The AIFA Board is pleased to announce two $10,000 grants, one supporting research into insect allergy treatment and the second that will improve development of a drug for allergy. Over the past 3 years AIFA has provided a total of $100,000 in research grants.
Jack Jumper Ant Allergy
Allergies to venoms from stinging insects are one of the most common causes of severe allergic reactions in Australia, and cause more deaths than shark attacks, yet they are rarely reported. Symptoms include an all-over rash, swelling of tongue or throat, difficulty breathing, abdominal pain, diarrhoea, vomiting or a drop in blood pressure.
A $10,000 grant has been awarded to a research project that will assess whether treatment for allergic reactions to Jack Jumper Ant stings is effective. The Chief Investigator is Dr Pravin Hissaria, with Professor Bob Heddle and Dr Adriana (Thanh-Thai) Le on the project team based at SA Pathology in Adelaide. The title of the project is "Assessment of the Basophil Activation Test as a tool for monitoring therapeutic responses to Jack Jumper Ant Venom Immunotherapy".
AIFA start up grant – Developing a tool for screening for allergy that will improve drug development
Reversing the rise of allergies is an important unmet challenge of modern medicine and a problem that Dr Ben Roediger seeks to address. Dr Roediger, a research immunologist and Head of Skin Inflammation Group at the Centenary Institute in Sydney, has been awarded an AIFA grant of $10,000. His project has the potential to lead to better treatment for many types of allergy. He admits it is an ambitious project. The AIFA grant will give him the start he needs.
---
AIFA research grant 2015
Understanding Food Protein Induced Enterocolitis Syndrome (FPIES)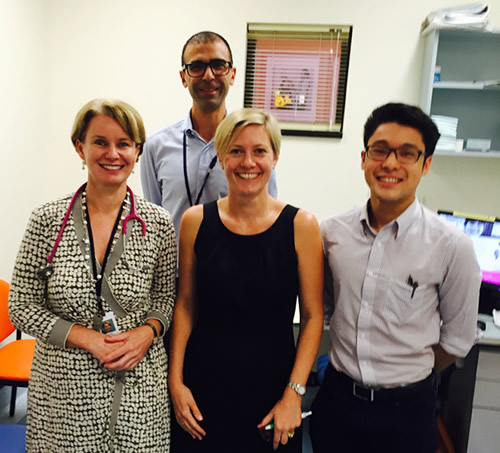 Research team led by Dr Sam Mehr (picture at rear with from left, Professor Dianne Campbell, Children's Hospital at Westmead, Dr Katie Frith, Sydney Children's Hospital, Randwick and Eric Lee, medical student), the Children's Hospital at Westmead, Sydney.
FPIES is an allergic disorder that occurs in approximately 1 in 10,000 children.The main symptom of FPIES is profuse vomiting, which can be accompanied by pallor, floppiness, hypotension and hypothermia. Most affected children have their first reaction before one year of age. The FPIES reactions may be triggered by a variety of foods, although the most common triggers in Australia are staple foods such as cow's milk, rice/oats, soy and eggs.
---
AIFA early career researcher grant 2015
Development of the immune system and allergy in childhood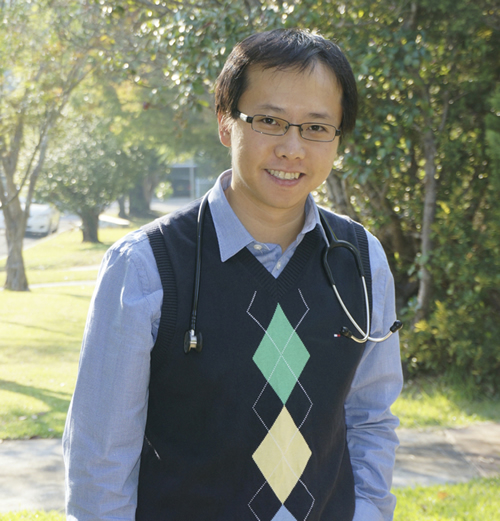 Dr. Peter Hsu, a clinical allergist and immunologist practising at the Children's Hospital at Westmead in Sydney, and his team will explore the development of the immune system in childhood.
---
AIFA research grant 2014
The Australian Pollen Allergen Partnership for the better management of pollen exposure and respiratory health outcomes
Team led by Associate Professor Janet Davies, Queensland University of Technology, Brisbane.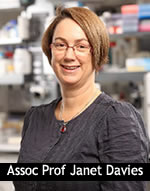 This will provide Australia's first national standardised pollen monitoring program. It will ensure reliable measurements and short term forecasts of allergenic pollen counts to the public via websites, apps and media outlets.
This project that will bring real benefit to patients with allergic rhinitis (hay fever). Grass pollen is the main outdoor trigger for hay fever and allergic asthma in people with pollen allergies.
---
AIFA early career research grant 2014
Predicting food allergy through the early diagnosis of molecular cross reactivity in house dust mite sensitised children
Team led by Dr Sandip Kamath, Department of Molecular and Cell Biology, James Cook University, Townsville.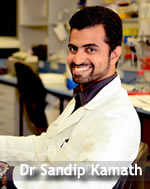 Sandip's work involves predicting shellfish allergy in children who are already allergic to the house dust mite. There are similarities between the bits of the house dust mite that cause allergies and those in shellfish, which means that there is cross reactivity. This is when the immune system reacts to house dust mite and may rebel against shellfish as well. This can evolve into severe allergic reactions.