AusPollen PreSeason Questionnaire
2 October 2018
: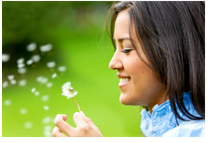 Local AusPollen Apps provide daily levels of pollen in the air, which can help if you have hay fever (allergic rhinitis) or if your asthma is made worse by allergens in the air. The Apps are available at www.pollenforecast.com.au
To help the AusPollen team evaluate usefulness of the Apps and how they can improve this service, please complete a short questionnaire before and after the pollen season. The survey can be found at https://survey.qut.edu.au/f/192287/435d/
This research will help the AusPollen Team to know where to site future pollen count stations and also determine if there are local triggers that make hay fever and asthma worse. If you would like to know more about the AusPollen project please contact Prof. Janet Davies, Queensland University of Technology by email at This email address is being protected from spambots. You need JavaScript enabled to view it.
This research is funded by NHMRC Partnership Project GNT1116107 and co-sponsorship from partner organisations.