Back to school with allergies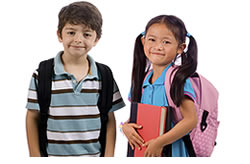 As children all around Australia start a new school year it is time to think of updating ASCIA action plans, making sure adrenaline (epinephrine) autoinjector devices are in date and informing the school and the teacher of a child's known allergies.
Our friends at Allergy & Anaphylaxis Australia and Western Sydney University have co-produced a new video to help parents of children with food allergies confidently make the transition from preschool and childcare to primary school. As the video points out, communication is the key to a smooth start to the school year.
Watch the video on You Tube here.
It's important to remember that severe allergic reactions can also be caused by insect stings and ant bites, and that allergic rhinitis (hay fever) affects 1 in 5 people in Australia and can have a negative impact on a child's performance at school. The experts in allergy, ASCIA, have a number of free downloadable information guides for schools, students and parents. You can access these resources and a range of other useful tools here.
Why not be informed and prepared and try ASCIA's free anaphylaxis e-training first aid for the community? This training can be accessed at www.allergy.org.au/patients/anaphylaxis-e-training-first-aid-community.
This is also a good time to think of joining AIFA and the allergy community in raising awareness and fundraising for research. We are not just building awareness, we are taking action to find better treatments and cures. How about supporting AIFA for your school fundraising, maybe an art auction or comedy night? To help you get started, we have a new fundraising toolkit that is full of great ideas and tips and tricks to make it easier to get involved in supporting research to help us find out why allergy is increasing and what we can do about it. Access the toolkit and a calendar of already scheduled events here.
Content updated 25 January 2017