Catalyst allergy program
13 February 2019
: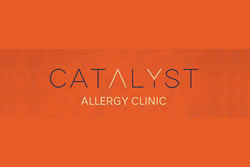 If you missed watching the Catalyst allergy program on ABC TV last night (12 February 2019), you can watch it on ABC iview https://iview.abc.net.au/show/catalyst
Several ASCIA members were involved in the program, including Prof Connie Katelaris, Prof Dianne Campbell, Dr Preeti Joshi, Carolina Valerio, Rebecca Sertori and Prof Janet Davies.
The Catalyst allergy program highlights the high prevalence, wide range and seriousness of allergic conditions. These include food allergy, anaphylaxis, allergic rhinitis, asthma, eczema and cold urticaria (hives).
Skin testing, food allergen challenge testing, the need to seek professional help from a specialist and examples of current research were featured in the program. It was also explained why more research is required.
How can you help support research?
By making a tax deductable donation to AIFA, this will enable AIFA to fund more allergy/immunology research. www.allergyimmunology.org.au/donate
Expressions of interest (EOI) for AIFA 2019 grants for allergy/immunology research ($120,000 in total) are due by the closing date of 15 April 2019. www.allergyimmunology.org.au/grants