First National Allergy Strategy launched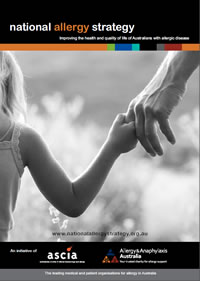 Australian children and adults with allergy are often being poorly managed, with resources being wasted and their health and wellbeing at risk - but the launch of the new National Allergy Strategy has solutions.
The National Allergy Strategy has been developed over the last 12 months involving scores of experts and over 50 stakeholder groups, including consumers, who have sifted through the evidence, consulted widely and produced coherent, achievable options for governments, health organisations, food industry and employers. Led by the Australasian Society of Clinical Immunology and Allergy (ASCIA) and Allergy & Anaphylaxis Australia (A&AA), as the leading medical and patient organisations for allergy in Australia, the Strategy aims to address public health issues relating to the rapid and continuing rise of allergy in Australia and improve the health and quality of life of people with allergic diseases, their families and carers, and the community.
For a copy of the National Allergy Strategy go to www.nationalallergystrategy.org.au
For more information about allergy go to:
www.nationalallergystrategy.org.au - for the National Allergy Strategy
www.allergy.org.au – for etraining and other resources
www.allergyimmunology.org.au – to donate to research
www.allergyfacts.org.au – for patient support