Terry's Rottnest solo swim for peanut anaphylaxis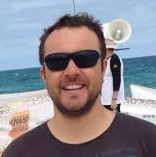 Terry's young daughter Nina has an allergy to peanuts and may develop life threatening anphylaxis after exposure to them.
On February 21, 2015, Terry bravely attempted the Rottnest swim to raise money for allergy research and to help inform people about anaphylaxis. The conditions were tough and Terry gave his all. He also raised an amazing $3480 for AIFA. It was a team effort of family and friends.
Terry started a conversation about allergy with his family and friends. He will always hold a special place in AIFA's history as one of our first motivated individual fundraisers. Cheers Terry.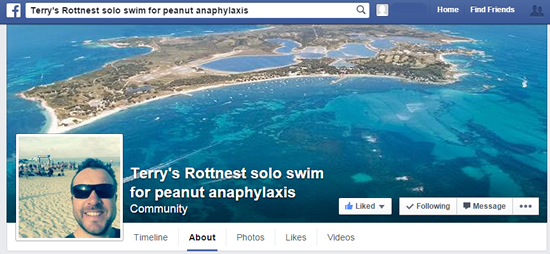 Terry wrote on his Facebook page on October 4
AIFA fund research into cures and ultimately that's what I want for Nina. That said I know money is always tight and raising awareness is just as important.
So if you donate great and thank you but if you can share this page and help me to raise awareness of what anaphylaxis is and why it's not just people being over protective then that's a great help too.
Support Terry's swim
https://www.goodcompany.com.au/fundraising/Terrys-Rottnest-solo-swim-for-peanut-anaphylaxis - note no longer current Sep 2022
---
Anaphylaxis occurs after exposure to an allergen (usually to foods, insects or medicines), to which a person is already extremely sensitive. The symptoms of anaphylaxis are potentially life threatening and include any one of the following:
Difficult/noisy breathing
Swelling of tongue
Swelling/tightness in throat
Difficulty talking and/or hoarse voice
Wheeze or persistent cough
Loss of consciousness and/or collapse
Pale and floppy (in young children)
In some cases, anaphylaxis is preceded by less dangerous allergic symptoms such as:
Swelling of face, lips and/or eyes
Hives or welts on the skin
Abdominal pain, vomiting
For more on anaphylaxis see www.allergy.org.au/patients/about-allergy/anaphylaxis
Content updated November 2014