The final report into the Victorian thunderstorm asthma event in November 2016 has prompted $15.56 million dollars in funding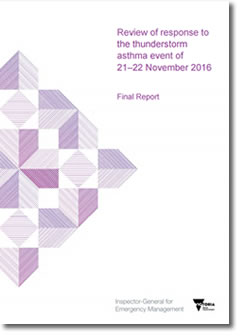 The final report into last year's unprecedented thunderstorm asthma emergency in Victoria that is believed to have contributed to the deaths of nine people and sent many more to hospital, has been handed down.
While the report found no evidence that the extent or duration of this event could have been predicted, it does include 16 recommendations to ensure both the emergency management and health sectors are better prepared for future events.
The government has accepted all 16 recommendations in the report which include:
More research to improve our understanding and treatment of thunderstorm asthma

Research to inform forecasting, modelling and response protocols

Emergency management training for hospitals and health workers

Education and engagement campaigns to assist communities to prepare for and respond to epidemic thunderstorm asthma

Increased monitoring and interpretation of pollen data

Improved real-time monitoring of data sources, including emergency department demand.
To access the full report go here.
Information on thunderstorm asthma on the ASCIA website was updated in December 2016 and is available at www.allergy.org.au/patients/asthma-and-allergy/thunderstorm-asthma