Understanding FPIES research results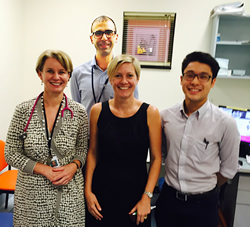 In 2015, AIFA funded a research project seeking to advance our understanding of food protein induced enterocolitis syndrome (FPIES). FPIES is an allergic disorder that occurs in approximately 1 in 10,000 children. Most affected children have their first reaction before one year of age. The main symptom of FPIES is profuse vomiting, which can be accompanied by pallor, floppiness, hypotension and hypothermia. The most common triggers for FPIES in Australia are staple foods such as cow's milk, rice, oats, soy and eggs. Rice remains the most common cause of FPIES in Australian infants.
A $10,000 grant was awarded to a research team seeking to determine how the immune system reacts in children during an acute FPIES reaction. By better understanding how the immune system reacts, the team hopes to be able to direct potential diagnostic testing and treatments in the future.
It was previously assumed that FPIES was caused by an immune cell, called a T-cell. However this research showed the innate immune system, which is the first line of immunological defence, is what was most activated in infants during their acute FPIES reaction.
This new understanding of the mechanism of FPIES has the potential for clinical outcomes for patients. It suggests that anti-inflammatory agents may assist in reducing the severity of a reaction. Further analysis of the exact cells responsible for the initial immune system activation will help to develop blood tests to predict whether FPIES is the likely diagnosis on initial presentation and to determine whether a child may have outgrown their FPIES. With a better understanding of which immune cells are involved in a reaction, this type of testing could lead to less hospital based food challenges without the need for insertion of intravenous lines or prolonged stay.
Dr Sam Mehr and Prof Dianne Campbell (and the FPIES project team based at the Children's Hospital at Westmead, Sydney) hope that this research will be a step toward better testing, treatment and awareness of FPIES, which is not well understood by the general and medical communities.
Photo: 2015 Research Team from left, Prof Dianne Campbell, Dr Sam Mehr (rear), Dr Katie Frith and Eric Lee
Content updated 7 November 2017