Importance of Early Detection of Primary Immunodeficiency (PID)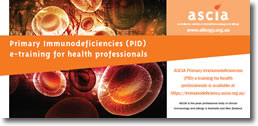 Early recognition of primary immunodeficiency (PID) is vital as early referral to a specialist improves management of disease. A new e-training course for health professionals has been released by ASCIA that aims to increase awareness of PID amongst general practitioners, paediatricians and general physicians.
www.allergy.org.au/hp/hp-e-training
Severe combined immunodeficiency (SCID) is the most serious form of primary immunodeficiency and is usually diagnosed in early infancy. It is a rare disorder, thought to affect less than ten Australian children born each year.
Primary immune deficiencies, such as SCID, are caused bydefects in cells of the immune system. This contrasts with secondary immunodeficiency diseases such as acquired immunodeficiency syndrome (AIDS), which is caused by infection with human immunodeficiency virus (HIV).
SCID is usually an inherited disorder. Babies are still dying in Australia from SCID. If diagnosed and their bone marrow transplanted within the first 3 months of life, a child has a 95% chance of survival.
Newborn screening for SCID will prevent infant deaths from undiagnosed SCID and also enable the potential diagnosis of other primary immune deficiencies. The Immune Deficiencies Foundation of Australia is campaigning for newborn screening for SCID.
www.idfa.org.au
Content updated 20 April 2016