Terry's Rottnest solo swim for peanut anaphylaxis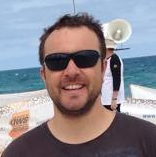 Terry's young daughter Nina has an allergy to peanuts and may develop life threatening anphylaxis after exposure to them.
On February 21, 2015, Terry bravely attempted the Rottnest swim to raise money for allergy research and to help inform people about anaphylaxis. The conditions were tough and Terry gave his all. He also raised an amazing $3480 for AIFA. It was a team effort of family and friends.
Terry started a conversation about allergy with his family and friends. He will always hold a special place in AIFA's history as one of our first motivated individual fundraisers. Cheers Terry.
Read more: Terry's Rottnest solo swim for peanut anaphylaxis